Custom Mini Word Magnets
www.miniwordmagnets.com www.manywordmagnets.com

~ Create fun Magnetic Sayings and Poems with miniwords ~
55 poetry words with your custom photo, our stock photo or clip art on the side or bottom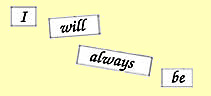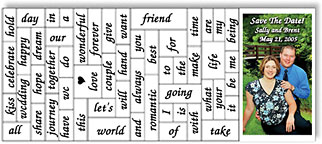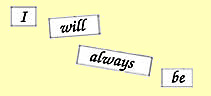 Stock Design with Custom Color Photo ~ Miniword #1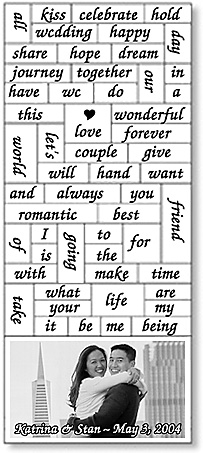 Stock Design with custom Color or Black and White Photo ~ Miniwords # 1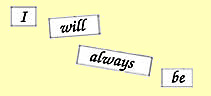 The 55 die-cut mini words easily pull apart to create hundreds of poems and phrases.

The mini magnetic words split apart to make all kinds of different fun phrases and poetry sayings.
A fun gift for your guests for wedding favors or "Save The Date" magnets.
They are shipping flat as above and can be mailed in a regular #10 size envelope.

The magnet is diecut and separates easily and breaks apart into 55 tiny magnets
of romantic words to create lots of fun fridge poems and phrases.

In addition, the magnet includes a detachable personalized 2 by 3 1/2" magnet
with your photo or clip art and your custom wording.
Actual size of the complete magnet is 3 1/2 by 8 1/4" which we send to you intact ~
your guests can break apart the 55 words when they recieve it in the mail
or when they take it home from your wedding! A wonderful and fun keepsake!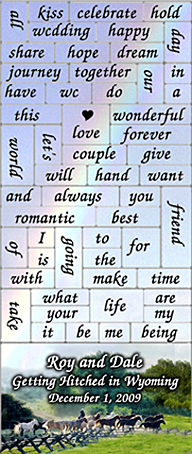 Miniwords #2 Mininwords #3 Miniwords #1
The personalized magnet 2 x 3 1/2 section can be vertical or horizontal format, placed at the bottom or side.
(You can use any regular #10 size envelope, if you want to send the Mini Word Magnets to your guests)
Or for your convenience we also have #10 Glassine or Gold or Silver Foil Lined Envelopes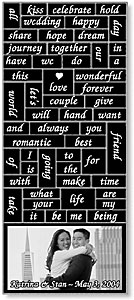 Any style is words printed in black or white, or any color with black or white or any color background color.

You can send us or email us your photo, or use any photo from our web catalog.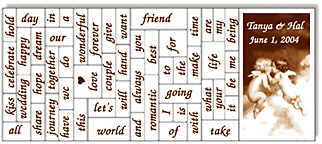 We can turn photos into a black and white or sepia tone photo for the personalized 2 by 3 1/2" magnet.
The words on the sepia tone magnets are on brown as above (image is # 4KISA from our web catalog)
As with all our magnets, you choose whatever wording you like for the personalized 2 by 3 1/2" section.
(For the detachable words, we use our stock mini words as pictured).

Or you use one of our clip art images with your wording.
Example of Mini Word Magnets with a clip art style detachable magnet below: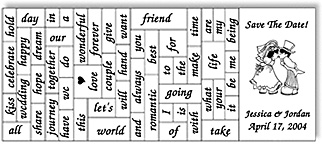 We normally use black printing. However you do have your choice of red, blue, green, burgundy, brown, teal or purple.
(Also available with words and clip art printed in white, with black or your choice of above colors as the background.)



Prices:


Same price for photo style or clipart style magnets




over 25 = $4.95 each


over 50 = $4.25 each ($3.75 Magnet Special)

over 75 = $3.65 each

($3.20 Magnet Special)

over 100 = $3.15 each ($2.75 Magnet Special)

over 125 = $3.00 each ($2.70 Magnet Special)

over 150 = $2.80 each ($2.60 Magnet Special)

over 200 = $2.70 each ($2.50 Magnet Special)

over 250 = $2.50 each ($2.25 Magnet Special)

over 400 = $2.25 each

($1.70 Magnet Special)

Our romantic words above are FREE and included in the price (Stock Designs: #1, #2, #3 with your custom photo and wording on the bottom or side 2x3.5" portion)
however if you would like, you can change any or all of the 55 words
for the mini words for a $35.00 set-up fee (one font style.)


~ ~ ~ ~ ~ ~ ~ ~ ~ ~ ~ ~ ~ ~ ~ ~ ~ ~ ~ ~


Romantic Mini Words Only

If you want just the our stock #1 romantic mini words (3 1/2" x 6 1/4")
you can order them separately as pictured below
(you can also order another custom magnet to go with them if you like.)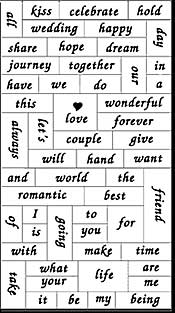 over 20 = $2.00 each
over 50 = $1.50 each
over 100 = $1.00 each
over 250 = $. 75 each
over 400 = $. 65 each






Printable Order Form
and Ordering Information


Save The Date Magnets, Wedding Magnets and Custom Photo-Magnets
SAVE THE DATE POSTCARDS


Complete Price List of ALL our products and Ordering Information
| Examples of Photo-Magnets | | Examples of One-Color Magnets |
| Mini Word Magnets |
| Wedding Clip Art | Wedding Verses |
Glassine and Foil Lined Envelopes
Photo Etched Gold or Silver Foil Wedding Seals
Save The Date Pens and Save The Date "Magnetic" Pens


Pertpetual-Calendars
Heart Shaped Magnets,Extra Large Magnets and Photo-Booth Strip Magnets
Put your own Names on our Blank magnets.
Wrapped Metal Style and Clear Acrylic Topped Style Magnets
Wedding Fans

| Stock Photo Catalog | Additional Wedding Backgrounds |
| Custom Mousepads and Coasters | Prayer Flags | Photo Buttons |
Glow-in-the-Dark Magnets
Wedding Confetti
Custom Photo Jewelry in Enamel or Sterling Silver
Magnetic Wedding Rings

Testimonials from Past Customers


New: HALF PRICE DISCOUNT on our magnet overruns.

Back to Wedding Home Page ~ www.mymagnets.com




email: magnets@photomagnets.com

Reflections
P.O. Box 1163
Rough & Ready, CA 95975
(530)273-9378