Prayer Flags of Universal Blessings
Universal Blessings of Peace, Compassion and Love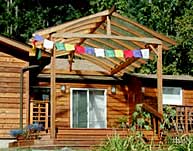 A Western/English variation of the ancient Prayer Flags of the Tibetan tradition.
To bless any new beginning, a new relationship, new marriage, new baby, new home, new business, etc.
When we hang prayer flags, we create the intention for more kindness for ourselves and all beings.
Prayer flags are believed to be activated by the wind that moves them.
As they wave in the wind, prayer flags lift up and carry our wishes for compassion, peace and healing around the earth. Prayer flags encourage us to live more mindfully and help us to restore our own inner calm. A more peaceful world still must begin in each of us, one open heart at a time.

The Five Prayer Flags include:
The Serenity Prayer
Prayer of St. Francis of Assisi
Loving Kindness Prayer
Breath of life Meditation
Namasté ~ Wind Horse Blessing
The colors represent the elements: earth, water, fire, clouds and sky.



Click Here to see the large view and read prayers on each flag.
(click your Back Button to get back to this page)

Beautiful quality 100% cotton flags. Handmade in Nepal by Buddhists.
Each set is made of 15 flags (11 inch squares) 11" x 240" sewn onto a 20 foot cord.
The 5 colors are repeated 3 times. Each rolled set includes a handsome card with prayer flag traditions.
Click Here to read information on card:
(click your Back Button to get back to this page)

Set of 5 Prayer Flags
$19.95
(plus $8.95 S/H)


* * * * * * * * * * * * * * * * * * * * * * * * * * * * * * * * * * * * * * * * *




More Prayer Flags: www.peaceprayerflags.com


Back to Wedding Home Page


| Price List and Ordering Information |



| Save The Date Magnets and Wedding Magnets |

| Examples of Photo-Magnets | Examples of One Color Magnets |
| Mini Word Magnets |
| Wedding Clip Art | Wedding Verses |
| SAVE THE DATE POSTCARDS |
lGlassine and Foil Lined Envelopes |
| Photo Etched Gold or Silver Foil Wedding Seals |
Save The Date Pens and Save The Date "Magnetic" Pens

Heart Shaped Magnets and Extra Large Magnets
Put your own Names on our Blank magnets.
Wrapped Metal Style and Clear Acrylic Topped Style Magnets
Wedding Fans

| Stock Photo Catalog | Additional Wedding Backgrounds |
| Custom Mousepads and Coasters | Prayer Flags | Photo Buttons |
Glow-in-the-Dark Magnets
Wedding Confetti
Custom Photo Jewelry in Enamel or Sterling Silver
Magnetic Wedding Rings

Testomials from Past Customers


New: HALF PRICE DISCOUNT on our magnet overruns.







email: magnets@photomagnets.com


Reflections
P.O. Box 1163
Rough & Ready, CA 95975
(530)273-9378