OPEN/CLOSED SIGN ~ 2 signs in 1!
Super Bright LED Lights Give the look of Neon

www.
openclosedneonsign.com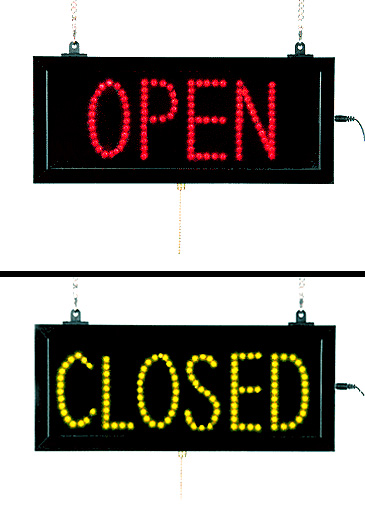 Your store gets noticed even when you are Closed!!!!!
Keep this Sign on all the time ~
Just pull the chain when you are OPEN and pull it again when you closed and the Sign Change to Say CLOSED.
This LED Open/Closed sign is brighter than average fluorescent signs,
with large 4" letters that really stand out.
3 Selectable lighting settings allow you to give your office or shop the look you want:
Red "Open" LED lights offer the option of scrolling 1 letter at a time left to right, flashing or continuous
Amber "Closed" LED lights offer flashing or continuous lighting


Steel hanging chains
Includes AC/DC adapter
120 volts, 60 Hz; 12 volt output;
Red lights: 77 lux; Amber lights: 35 lux; Overall dimensions: 16-1/4" L x 1-9/16" W x 6-13/16" H
Net weight: 2.6 lbs
Call us for extra shipping charges to Hawaii, Alaska, Puerto Rico or Internationally
If you want to order now with your Credit Card, press the corresponding buttons.
We are not set up to take credit cards over the phone,
but we have been taking online payments for years through PAYPAL

A Secure InternetWebsite.


You do

NOT

have to join Paypal and Do

NOT

have to create a password to pay with a credit card,
on the checkout page, just scroll down till you see the credit card logos and press the

continue

button.
If you cannot figure out how this check out system works, please call us at (530)273-9378
and we will be happy to walk you through it.

Or you can mail us your check or money order.
Call or email us for Shipping Discounts for ordering more than one sign kits and other signs.
Thanks!

back to: www.clingletters.com
Reflections
P.O. Box 1163
Rough & Ready, CA 95975

Feel free to call if you have any questions:
(530)273-9378