The Nut and Seed Press produces healthy oils for cooking, nutritious salad dressing oils, oils for making soaps and more. The Oil Press gives a high extraction rate and continuous expressing. It uses a combination of heat and grinding to release oil from seeds and nuts. You can press up to 8 cups of oil per hour and process up to about 11 lbs of bulk seeds or nuts per hour. Easy to operate, requires very little maintenance and very compact (8 x 5x 2.5" - handle is 11¼" L) and weighs 5 pounds. The press is made of all Hardened Steel parts and is NOT painted, but high heat powder coated with an environmentally friendly, food grade protective coating that does NOT contain any lead or solvents. The coating is not soluble in oil and can resist heat of the small oil lamp burner. You need a little heat to press and crush the oil out of the seeds and nuts. The oil is cold pressed as it the flame stays at a low temp and does not damage the nutrients of the oil. The Oil Press needs to be mounted ~ it can be mounted on a table, stable wood block, counter, wall, tree or the floor. 1 year warranty.
Please Beware
: there are a few similar looking inferior oil presses made in Asia that are made with toxic lead metal and/or lead paint.
~ ~ ~ ~ ~ ~ ~ ~ ~ ~ ~ ~ ~ ~ ~ ~ ~


See Video Below to see How to assemble and use the Hand Crank Press:

~ ~ ~ ~ ~ ~ ~ ~ ~ ~ ~


NEW
: Electric Hand Oil Press (Model 2)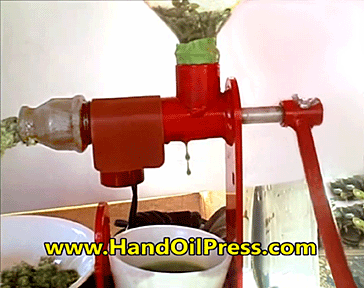 The Electric Hand Crank Oil Press can be plugged in and you don't need any lamp oil or flame to heat the chamber of the Oil Press.
The original press works great with the lamp oil bottle, but some of our customers have complained about not liking working
with the lamp oil and flame and the smell of the oil lamp and the slight black residue that forms on the press from the flame.
To that end, after much experimentation, we have come up with an great alternative solution for those who would rather just plug it it.

A flexible silicone rubber
heating element is attached to the metal body of the press
and it heats up to the
exact correct temperature to produce the optimum amount of oil from the press.

See Video Below


The Electric Model 2
works just as good or better than the flame, easy, just plug it in!
(5 ft cord)

(Use caution and do NOT touch the rubberized section when it is plugged in as it gets hot immediately and can burn you).
Just like our original Oil Press, it does not come with the top hopper (this is easily made by cutting a plastic water or soda bottle in half) or a container to catch the oil.
(Pressing the Buy Now Button will show the Total Price including Shipping/Handling added in)

~
No Sales Tax
~
Except for Residents of California
~
Call us for extra shipping charges to Canada and Internationally
~ ~ ~ ~ ~ ~ ~ ~ ~ ~ ~


Video below shows The Electric Model 2 in action pressing pumpkin seeds:



~ ~ ~ ~ ~ ~ ~ ~ ~ ~ ~


See video below
showing Olive Oil
being pressed from dried dehydrated pitted black olives.

~ ~ ~ ~ ~ ~ ~ ~ ~ ~ ~

Automatic Tabletop Nut and Seed Oil Press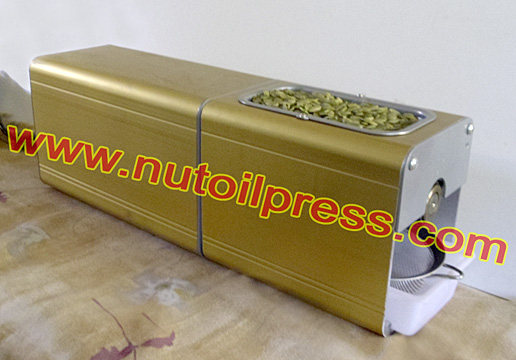 ..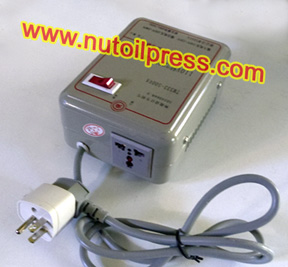 Just put any nuts or seeds in the hopper, turn it on and out comes the fresh homemade oil!
Watch video below
These tabletop presses are used all over Asia, and are just starting to be introduced in the US Market.
Easy and fun to use! All Stainless Steel components and aluminum outer housing 17"x6"x5" (15 lbs).
Comes from overseas with a 220v plug and it includes a 300 watt transformer box (7 lbs)
that lets you convert 220v to our 110v to plug into any wall outlet.
Works great with walnuts, pecans, almonds, flaxseeds, sesame seeds, sunflower seeds, pumpkin seeds, and more.
BONUS: The unit heats up to produce the oil, making the pulp that is expelled from the press
come out slightly toasted and is a great crunchy chip like snack, just add a little salt, so nothing is wasted!
$299.95 plus $149 shipping direct from overseas (takes approximately 2-3 weeks delivery)
Call us at 530-273-9378, if you are interested in ordering the Automatic Tabletop Nut and Seed Oil Press.
See video below:

~ ~ ~ ~ ~ ~ ~ ~ ~ ~ ~

Also we sell:

The World's Best Nutcracker

www.theworldsbestnutcracker.com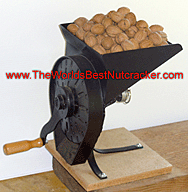 ~ ~ ~ ~ ~ ~ ~ ~ ~ ~ ~ ~ ~ ~ ~ ~ ~


The World's Best BLACK WALNUT Cracker!
www.bestblackwalnutcracker.com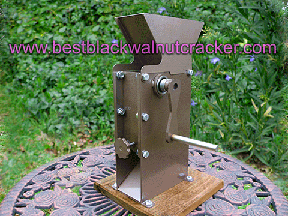 This Amazing Hand Crank Nutcracker was designed specifically to crack Black Walnuts. No more hammers!!!
Black Walnuts are extremely hard to crack.
To our knowledge, ours is the only Handcrank Black Walnut Nut Cracker available anywhere!

~ ~ ~ ~ ~ ~ ~ ~ ~
Automatic Electric Nutcracker
www.automaticnutcracker.com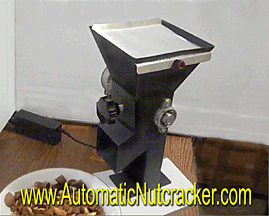 Easy to Use Automatic Electric Nutcracker - Just Plug it and Nuts Crack!

~ ~ ~ ~ ~ ~ ~ ~ ~ ~ ~ ~ ~ ~ ~ ~
The MacNutcracker
The Best Macadamia Nut Nutcracker!!!

Will also crack Black Walnuts
and hickory nuts

www.macnutcracker.com

~ ~ ~ ~ ~ ~ ~ ~ ~ ~ ~ ~ ~ ~ ~ ~


Fantastic Professional Nut Butter Stone Grinder
www.nutbuttergrinder.com

This fantastic grinder gives you the richest, healthiest and tastiest Nut Butters available.
* * * * * * * * * * * * * * * * * *
We take Credit Cards via Paypal, Checks or Money Orders
We can only take credit cards via Paypal (a secure Internet credit card site

)
by pressing the Buy Now Buttons above.
You do NOT have to join Paypal and Do NOT have to create a password to pay with a credit card,
on the checkout page, just scroll down till you see the credit card logos and press the continue button.



If you cannot figure out how this check out system works, please call us at (530)273-9378
and we will be happy to walk you through it.
We are
NOT
set up to take credit cards over the phone.
If you wish, you can mail us a check or money order, please call us if you would like to send us payment.
If you have other any questions, feel free to call us.
Thank You! Ms. Nityam Privette
All above Shipping prices are for the United States only
Call us for extra shipping charges to Canada or Internationally
Reflections
P.O. Box 1163
Rough & Ready, CA 95975
(530)273-9378

*********************************************
Back to our complete original Homepage: www.photomagnets.com
www.theworldsbestnutcracker.com
www.automaticnutcracker.com
www.nutoilpress.com
www.hardnutstocrack.com
www.nutbuttergrinder.com
www.bestblackwalnutcracker.com
www.fermentcrocks.com
(Handmade in California ~ crocks makes the best sauerkraut ever!)
www.irrigationpots.com
(Deep Seep Ollas for low maintenance underground Clay Pot Irrigation)
www.giantearthglobes.com
www.earthballoons.com
www.giantearthflags.com
Other Flags: Dove Flags, Peace Symbol Flags, Rainbow Peace Flags, Italian Pace Flags and more
www.peacejewelry.org
www.peaceprayerflags.com
www.corporateamericanflag.com
www.solarspinningearth.com
6 ft Earth Backdrop
www.freehugsmovement.org
www.lifelikeanimals.com
Fighting Terrorism Since 1492 postcards and magnets
Earth Buttons, Mini Buttons, Magnets, Bumper Stickers, Decals Postcards, Peace Pins, Dove Pins
www.earthgazingballs.com
Other Earth Products
Economical Solar Ovens ~ Cook with the Power of the Sun
www.portablemassagechairs.com
www.
yogainversionswing.com
**********************
We donate a portion of our sales to:

www.TheEarthFlagProject.org
Purchasing products from our website helps
The Earth Flag Project

.

who donate Earth Flags to cities, schools, libraries, and civic and public buildings, who will
agree to fly the flag of our planet on their flagpole.
The Earth Flag Project
is helping make
Earth Flags more visible to all of us,
as a recognizable symbol
and
reminder that we need to care for our earth, our environment, our creatures and each other.

As a small practice and statement of sustainability & commitment to the valuable resources of the Earth:
We are proud to say that we recycle by reusing
our boxes and packaging whenever we can.
If every business did this, it would be monumental in it's impact! We encourage you to do so, as well.
Reflections is an Approved Green Business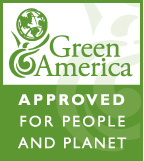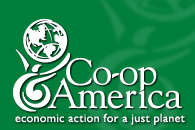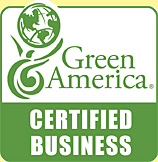 Member in good standing since 1996

www.greenamerica.org
~ ~ ~ ~ ~ ~ ~ ~ ~ ~ ~
www.payyourorder.com