Speedy Special Deal Magnets - HALF PRICE!!
Sometimes we have overruns of our magnets
and we can offer them quickly with low minimums at a Special Price

Mini Word Magnets with the these die-cut words only:
3 1/2" by 6 1/4"
2 different groups of break-apart words below (both are the same size)
The one on the left is our standard romantic words,
the one on right has many of our standard words with several words that are different.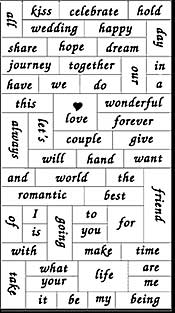 ...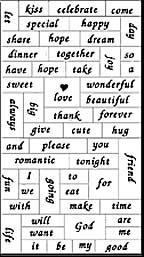 over 20 = $2.00 each
over 50 = $1.50 each
over 100 = $1.00 each
over 250 = $.75 each
over 400 = $.65 each


Printable Order Form
and Ordering Information ~ and Pricelist for Small/Large Magnets & Postcards


Save The Date Magnets, Wedding Magnets and Custom Photo-Magnets
SAVE THE DATE POSTCARDS


Complete Price List of ALL our products and Ordering Information
| Examples of Photo-Magnets | | Examples of One-Color Magnets |
| Mini Word Magnets |
| Wedding Clip Art | Wedding Verses |
Glassine and Foil Lined Envelopes
Photo Etched Gold or Silver Foil Wedding Seals
Save The Date Pens and Save The Date "Magnetic" Pens

Heart Shaped Magnets,Extra Large Magnets and Photo-Booth Strip Magnets
Put your own Names on our Blank magnets.
Wrapped Metal Style and Clear Acrylic Topped Style Magnets
Wedding Fans

| Stock Photo Catalog | Additional Wedding Backgrounds |
| Custom Mousepads and Coasters | Prayer Flags | Photo Buttons |
Glow-in-the-Dark Magnets
Wedding Confetti
Custom Photo Jewelry in Enamel or Sterling Silver
Magnetic Wedding Rings

Testimonials from Past Customers


New: HALF PRICE DISCOUNT on our magnet overruns.

Back to Wedding Home Page ~ www.mymagnets.com email: magnets@photomagnets.com

Reflections
P.O. Box 1163
Rough & Ready, CA 95975
(530)273-9378