Custom Wedding Bobbleheads
made from your photos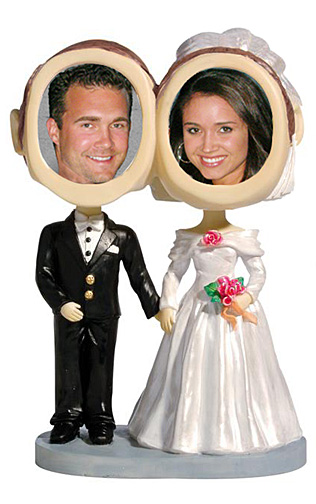 Great for Caketoppers or wedding decoration or
a unique wedding gift for the wedding couple.
(We also have African Amerian Bobblehead couple with brown face outline and hands).
$49.95
if you are also ordering any amout of our custom
magnets
or
postcards
.
If you are NOT ordering our custom magnets or postcards the price is $69.95.
Just send us a photo or it is best if you can send us 2 individual photos of bride and groom, each looking directly into the camera with space all around their heads and hair.
We can crop the photo however you like, we can use the full face including the hair and ears (as in the above example) or we can zoom into the full face only. We will send you a proof for your approval.
Printable Order Form
and Ordering Information ~ and Pricelist for Small/Large Magnets & Postcards
Save The Date Magnets, Wedding Magnets and Custom Photo-Magnets
SAVE THE DATE POSTCARDS
Vintage Images Greetings from your State - Postcards and Magnets


Complete Price List of ALL our products and Ordering Information
| Examples of Photo-Magnets | | Examples of One-Color Magnets |
| Mini Word Magnets |
| Wedding Clip Art | Wedding Verses |
Glassine and Foil Lined Envelopes
Photo Etched Gold or Silver Foil Wedding Seals
Save The Date Pens and Save The Date "Magnetic" Pens
Pertpetual-Calendars
Heart Shaped Magnets, Extra Large Magnets and Photo-Booth Strip Magnets
Put your own Names on our Blank magnets.
Wrapped Metal Style and Clear Acrylic Topped Style Magnets
Wedding Fans
|
St
ock Photo Catalog
|
Additional Wedding Backgrounds |
|
Custom Mousepads and Coasters |
Prayer Flags |
Photo Buttons
Glow-in-the-Dark Magnets
Wedding Confetti
Custom Photo Jewelry in Enamel or Sterling Silver
Magnetic Wedding Rings
Testimonials from Past Customers

New:
HALF PRICE DISCOUNT
on our magnet overruns.
Back to Wedding Home Page ~ www.mymagnets.com
~ ~ ~ ~ ~ ~ ~ ~ ~ ~ ~ ~ ~ ~ ~ ~ ~ ~ ~ ~ ~ ~ ~
We prefer phone calls, feel free to call us with any questions
email for emailing us your photo:
magnets@photomagnets.com

www.myweddingmagnets.com
Reflections
P.O. Box 1163
Rough & Ready, CA 95975
(530)273-9378

~ ~ ~ ~ ~ ~ ~ ~ ~ ~ ~ ~ ~ ~ ~ ~ ~ ~ ~ ~ ~ ~ ~