The Earth Flag Project
www.theearthflagproject.org
The Earth Flag Project

donates Earth Flags to cities, schools, libraries, and civic and public buildings, who will
fly the flag of our planet on their public flagpole, helping Earth Flags be recognized as a universal symbol and a reminder that we are here to care for our earth, our environment, our creatures and each other...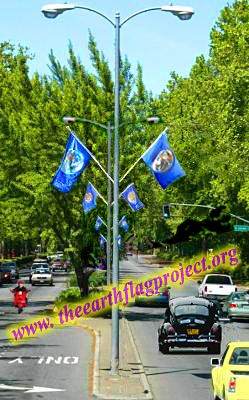 Above are Earth Flags flying throughout the city of Chico, California
Flown during the month of April, 2007 ~ as Earth Day becomes Earth Month!


Over

150 Earth Flags

adorned flagpoles and light posts of the main streets of Chico. The flags remained flying for the whole month of April of 2007, as an awareness of Earth Day, reminding
and think about living green and sustainably on our planet every day. We applaud the City of Chico for being one of the pioneers in this effort and for making such a conscious and beautiful statement and decision to make this a yearly tradition every April in their town!



The Earth Flag Project

was able to help the City of Chico by donating several Earth Flags to their project and

by providing the rest of their Earth Flags at a very affordable cost. They purchased 350 more flags to sell to help raise funds for project. Residents of Chico are now flying Earth Flags flying EVERYDAY, not just on "Earth Day", from many homes and buildings. It was a huge success!



We hope more cities around the country will adopt this idea and for Earth Month!

~ ~ ~ ~ ~ ~ ~ ~ ~ ~ ~ ~ ~ ~ ~ ~ ~


Our goal is to see Earth Flags flying in every city and town, everyday, all year long

The Earth Flag Project donates flags to public
and civic buildings
who will fly the flag of our planet on their flagpole or displayed on their buiding daily,
not just on Earth Day.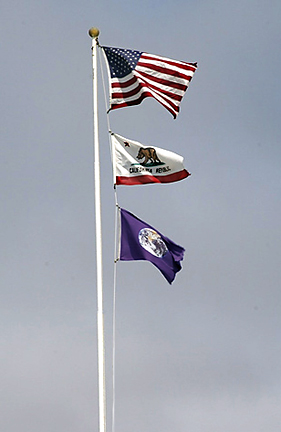 The Earth Flag can be flown or displayed alone or along with the American Flag, State Flags or other flags.
Please feel free to contact your local authorities, and other people in charge of public buildings,
and let them know about
The Earth Flag Project
,
and please make a request that they fly
the Earth Flag in

your city

or town and you have them
contact us at
(530)273-9378
about having a flag donated to them.

It is your city, too!
~ ~ ~ ~ ~ ~ ~ ~ ~ ~ ~ ~ ~ ~ ~ ~ ~


You Can Help and Support our Cause with a Donation
If you would like to make a donation
for an Earth Flag to be flown in your honor,
you can make your donation below, which pays for one $29.95 flag (plus shipping) for the
The Earth Flag Project
:


Please note if you have a specific building in your city
that has agreed to fly this Earth Flag,
please email us the phone number the name of the person in charge and we will send it to them,
and if you would like, we will let them know it was donated by you.


You will also be mailed a Certificate suitable for framing
that you have supported and donated to

The Earth Flag Project

Thank you!

~ ~ ~ ~ ~ ~ ~ ~ ~ ~ ~ ~ ~ ~ ~ ~ ~


You can also help us by purchasing Earth Flags:
You can also help

The Earth Flag Project
by
purchasing your Earth Flags
and other flags and peaceful products for yourself and as gifts from:

www.earthflags.com



who donate a portion of their sales to help fund and support

The Earth Flag Project

,
helping make Earth Flags more visible to all of us,
as a universal symbol
and
reminder to care for our earth, our environment, our creatures and each other.


~ ~ ~ ~ ~ ~ ~ ~ ~ ~ ~ ~ ~ ~ ~ ~ ~


The Earth Flag Project
(530) 273-9378
earthflags @ yahoo.com



If you
would like to fly the Earth Flag
are eligible for an Earth Flag Donation

,
please
email us with the name or your school or organization and we would
be happy to send your an
Earth Flag
as a donation to fly in front of your building.

~ ~ ~ ~ ~ ~ ~ ~ ~ ~ ~ ~ ~ ~ ~ ~ ~

Approved Green Business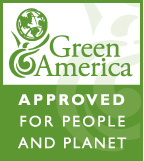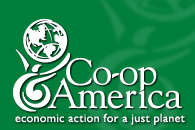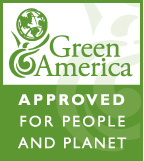 Member in good standing since 1996
www.greenamerica.com
* * * * * * * * * * * * * * * * * * * * * * * * * * * * * * * * * * * * * * * * *