One Color Business Card Magnets
Magnetic Business Cards are so much better than ordinary business cards! Great for advertising and promoting your business. And puts your telephone number always conveniently located.
These are mini-billboards and well worth it! The best advertising dollar you will ever spend.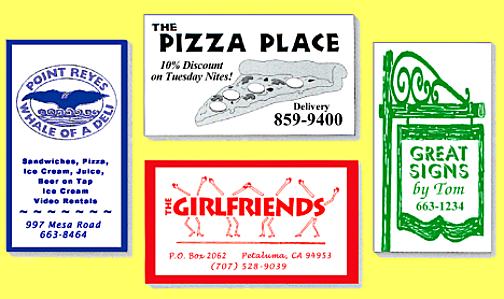 The 3 magnets below are examples stock photos and of our optional borders and clip art available

WHOLESALE PRICES ~ Quantity Discounts:

Small (2 by 3 1/2")
(Other sizes also available)

<> over 100 = 1.09 each
over 200 = .57 each
over 250 = .46 each


over 400 = .30 each


over 500 = .25 each
over 1000 = .20 each
over 2500 = .15 each
over 5000 = .14 each
over 10,000 = .12 each>
FREE LOGO and SET-UP. Send us your logo, artwork or drawing. Or you can send us your photo to be turned into a half-tone ($20.00 set-up for photos/half tones). Free set up for logos! It works best if you can send it in .tiff or .jpg at 300 dpi. Do not reduce the size of the image. We can print any wording, name, address, telephone number, website etc., for FREE. If you wish we can print your magnets with just lettering.
FREE PRINTING: Up to 8 lines printed in Black, Green, Red, Burgundy, Teal, Brown, Purple or Blue. For 2 or more colors see prices for our Custom Photo-Magnets. If you have specific fonts you would like, we can match most fonts. Include a sketch indicating where you want the printing to appear.
FREE PROOF emailed to you upon request once you place your order.
We do have other sizes and shapes -- just call us.

Payment and Shipping: Orders are sent UPS, shipping added. Production time is around 10 working days. Initial orders are either prepaid, if you prefer you can send us a 50% deposit and the balance will be sent COD. Net 30 is available on future orders.
FOR SAMPLES: call us, fax us, or email us with your request and indicate if you are interested in either the small or large size magnets and be sure to include your name, title, business name, mailing address and phone number and we will send you a free sample from a past order.
Thanks!
REFLECTIONS
P O Box 1163
Rough and Ready, CA 95975
Feel free to call if you have any questions: (530) 273-9378
Or email us at: economy@photomagnets.com
Back to: Super Economy Custom Photo-Magnets!
Back to Home: www.photomagnets.com


Free counters provided by Honesty.com.