Travel across the world with this interactive globe using digital geographic technology. A talking wireless reader delivers exciting educational facts about the various continents, countries, bodies of water, landforms, and more. Customize your hands-on geography lesson by downloading free online content onto the wireless reader using your USB port. You can then use it to play games, lead trivia review sessions, compare structures, and introduce content tied to your lessons. Audio is delivered in your choice of four languages: English, French, Spanish, and German.
Both entertaining and educational, our new interactive students' globe keeps kids exploring for hours. Touch the wireless "pen" to the globe to play games and hear more than 10,000 facts about the world. Includes a 48-page book featuring maps, world flags, landmarks, animals, dinosaurs, explorers, moon and sky maps, and more.
Way more than just a globe the Intelliglobe brings a world of information to your fingertips ... and ears. Although the Intelliglobe looks like a normal globe with raised relief and a blue ocean the surface of it is actually planted with 884 invisible coded dots known as hotspots. When you place the SD-X Interactive "pen" device over printed words on the globe the content comes to life with a variety of voices providing information for just about everything from amazing facts to weather for five hours of continuous play. A really cool addition is the included 48-page World Discovery Book that also works with the same intellipen. This book is chock-full of information with various maps flags landmarks and information about dinosaurs the solar system and so much more. The Intelliglobe Deluxe makes an awesome treat for knowledge-hungry brains! Additional Features: 30,000 sound files including real music and sounds. Free updatable Internet information Advanced learning mode with feature to download customized information - for ages 15 years + Multi-touch information within the Explore Mode and Games Mode. Explore Mode includes features for geography national government economics and Earth facts. Games Mode includes timed geography games trivia and multiple choice questions. Adjustable volume and clock features. World Discovery Book features maps and include modes for exploring cities land area population major industries and natural resources. The Book features world flags and landmarks; information about animals dinosaurs food and explorers; and maps of the moon solar system and sky, and information about countries and territories; capitals and cities; ecology geology and agriculture and more.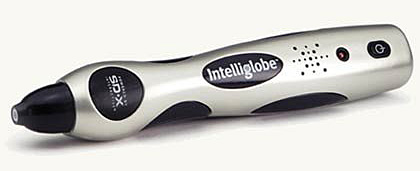 The wireless Intellipen features 1GB of easily updatable memory and plays spoken audio in 4 languages: English, Spanish, French and German. (takes 2 AA Batteries)

--------------------------

The Intelliglobe Deluxe
12" Interactive Globe w/ Wireless Stylus Pen - Ages 5 to Adult
The most advanced interactive globe on the market with a multitude of features including:
18 Touch & Control Features
7 Compare Features
6 Find Games
Trivia Challenge
Multiple Choice Challenge
Thousands of fun, exciting and educational facts
All Audio in 4 Languages: English, French, Spanish & German
Instruction Manula

1 GB Wireless Talking Reader features USB updatable, downloadable information capability, clear sound speakers and headphone port.


Touch the Wireless Intellipen to the globe to play games, explore and discover amazing educational facts about the world.



Explore, Discover and Learn Features
Geography
Countries & Territories
Population
Languages Spoken
National Government
Economics
Currency
Land Area in Miles
Land Area in km
Cities
States & Provinces
Music
History
Life Expectancy
Geology
Climate
Ecology
Current Time
World Compare Features
Distance Between Cities and Countries
Flying Time Between Cites
Population of Countries
Area of Countries
Life Expectancy Between Countries
Game Features


Multiple Choice Challenges
Continents
Countries
Cities
Waterways
Locations & Landmarks
Trivia Challlenge
-------------
Also includes 48 page world
DISCOVERY BOOK that features:
Maps
World Flags
Landmarks
Animals
Dinosaurs

Foods
Explorers
Moon Map
Sky Maps & More

Weight:
10 lbs.